Notary Public Service - After Hours & Weekends
Our licensed professional notary public services are here to make life easier. Once your documents are notarized, we will help you make any necessary copies and send them where they need to go.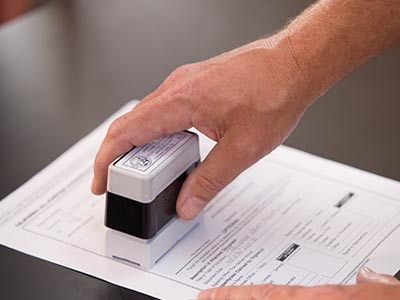 Why do documents need to be notarized?
A notary public acts as an impartial third-party witness to not only the signature of a document, but also that all parties who signed a document did so willingly and under their own free will.
Types of documents that may require notarization:
Wills
Trusts
Deeds
Contracts
Affidavits
Be Prepared
Bring a valid, government issued photo ID with you when you visit The UPS Store for notary services.

Laws vary by state and some documents may require witnesses in addition to the notarization.

In most cases, the notary cannot act as a witness.
Hours

Mon

5:00 pm

- 9

:00 pm

Tue

5:00 pm

- 9

:00 pm

Wed

5:00 pm

- 9

:00 pm

Thu

5:00 pm

- 9

:00 pm

Fri

5:00 pm

- 9

:00 pm

Sat
9:00 am - 9:00 pm
Sun
9:00 am - 9:00 pm




Below are prices for notarization of documents only. (Stamp only). Prices will vary base on appointment times and notices. Additional fees for House Calls.



Please note that there is a $10-$20 dollar additional processing fee added to notary charges for all after hour(6PM-10PM) notary sessions.
Sec. 406.024. FEES CHARGED BY NOTARY PUBLIC. (a) A notary public or its employer may charge the following fees:
(1) for protesting a bill or note for nonacceptance or nonpayment, register and seal, a fee of $4;
(2) for each notice of protest, a fee of $1;
(3) for protesting in all other cases, a fee of $4;
(4) for certificate and seal to a protest, a fee of $4;
(5) for taking the acknowledgment or proof of a deed or other instrument in writing, for registration, including certificate and seal, a fee of $6 for the first signature and $1 for each additional signature;
(6) for administering an oath or affirmation with certificate and seal, a fee of $6;
(7) for a certificate under seal not otherwise provided for, a fee of $6;
(8) for a copy of a record or paper in the notary public's office, a fee of 50 cents for each page;
(9) for taking the deposition of a witness, 50 cents for each 100 words;
(10) for swearing a witness to a deposition, certificate, seal, and other business connected with taking the deposition, a fee of $6; and
(11) for a notarial act not provided for, a fee of $6.
(b) A notary public may charge a fee only for an acknowledgment or official act under Subsection (a). The fee charged may not exceed the fee authorized by Subsection (a).
"Let Us Make Your Image Last Forever"